Checkups & Cleanings Protect Oral Health in Fayetteville and East Point, GA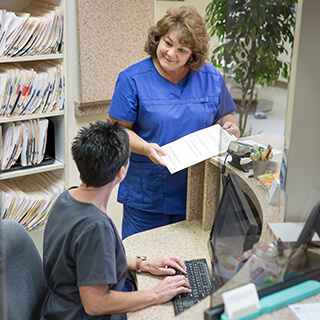 Everyone wants to keep their teeth strong, healthy, and attractive over the years, and attending regular checkups and cleanings with a talented, friendly staff like Dr. Mitchell's is the best way to do so! We welcome patients of all ages, with your comfort and personal needs always a priority throughout the relationship. Please contact either our Fayetteville or East Point location today to schedule an appointment for you or a loved one.
What Happens During A Dental Check-Up?
During a dental check-up, our team's goal is simple – to ensure our patients have a comprehensive understanding of their unique oral health needs so that we can treat discomfort, damage, or decay immediately. For this reason, Dr. Mitchell conducts a thorough exam, examining each tooth, the gum tissue, the jaw function, and previous restorative work already in place. Digital X-rays are taken to give us a clear picture of issues that may be hidden beneath your smile's surface. With a clear picture of your current dental health, we provide treatment options and help you choose the plan that works best to address your needs.
What Happens During A Dental Cleaning?
The sticky, colorless, bacteria-laden substance known as plaque constantly forms around your teeth and gums. If it's left in place too long it will harden into tartar and cause tooth decay and gum disease. During twice annual checkups, our talented team will clear away plaque and tartar keeping your smile bright and healthy year-round. Healthy smile…just around the corner!